The Transformation Of Chris Harrison From 26 To 49 Years Old
As the longtime host of "The Bachelor," Chris Harrison was often in the news for his relationship to 'Bachelor' Nation stars. But in early 2021, he made headlines for a different reason altogether. After coming under fire for defending former "Bachelor" Season 25 contestant Rachael Kirkconnell's racist actions, Chris stepped down from hosting "The Bachelor" in February 2020. Per E! News, that's when Bachelor alums Kaitlyn Bristowe and Tayshia Adams stepped in to take over hosting duties for Katie Thurston's season of "The Bachelorette." But just one day after the series premiere on June 7, 2021, Chris shocked fans further by announcing he would be leaving "The Bachelor" for good.
"I've had a truly incredible run as host of 'The Bachelor' franchise and now I'm excited to start a new chapter," he wrote in an Instagram post on June 8. "While my two-decade journey is wrapping up, the friendships I've made will last a lifetime." 
Two decades is a long time, and Chris has sported a plethora of changing looks during the period in which he's been gracing TV screens. As fans prepare to bid him goodbye, let's take a look at just how dramatic his transformation has been over the years.
Chris Harrison never auditioned to host 'The Bachelor'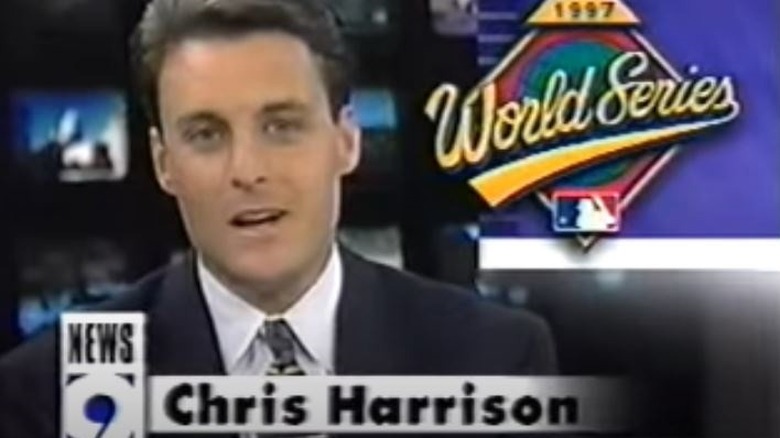 Entertainment biz can be tricky, and stars typically have to pay their dues before (if ever) getting a lucky break. But Chris Harrison somehow managed to segue a sports reporting career into a hosting gig for "The Bachelor" — just like that! According to Life & Style Magazine, Chris worked as a reporter for KWTV in Oklahoma City from 1993 to 1999. Apparently, 'Bachelor' creator Mike Fleiss took his resume at face value because Chris was never even asked to audition for the show. 
"I never auditioned for this job," Chris revealed to Variety in 2017. "I really didn't. I'm not messing with you…I had a couple meetings, and that's it." According to the former host, the reason for this was twofold. Firstly, as he explained to Variety, there was a dearth of reality shows during the early 2000s. "You have to understand when this was happening, there was no reality TV," Chris elaborated. "'Survivor' was just about to start and that's it." 
Secondly, Mike wanted a family man to helm "The Bachelor," and Chris fit the bill. "I'm from the South, a Texas boy, and they wanted just kind of a down-home guy that had a family, and, I guess, wouldn't be the creep that would hit on all the women," he told Variety. Little did he know at the time that he would go on to helm 25 seasons! Seems like the stars aligned for him to step into the role.
Chris Harrison wore a baggy suit for the premiere of 'The Bachelor'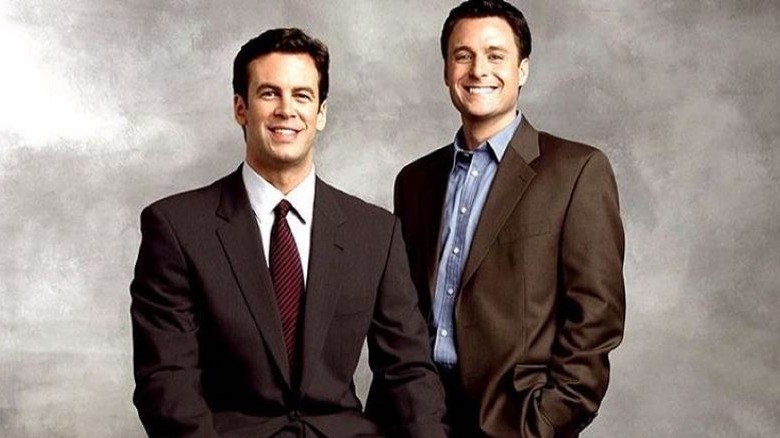 Even longtime viewers have likely never seen Chris Harrison look anything less than perfectly polished. But during the first season premiere of the "Bachelor" in 2001, the first-time host was baby-faced at only 29 years old — and his youth showed! Turns out that even his on-camera experience with KWTV didn't prepare him (fashion-wise) for the realities of entertainment media.
Taking to Instagram in 2016 in honor of "The Bachelor's" 20th season, Chris joked about "the kid hosting and wearing his dad's suit" with an iconic throwback. "#TBT in honor of season 20 of #TheBachelor let's go back to when it all began," he wrote. 
This baggy suit clearly stuck in his mind as a fashion faux pas, because he referenced it a year later in a 2017 Twitter post. Responding to a fan who asked him to rate his suits on the show, Chris tweeted that "#1 suit will always be the oversized khaki suit I wore on day 1 episode 1 it looks like I stole it from my dad's closet."
Chris Harrison launched a clothing line in 2013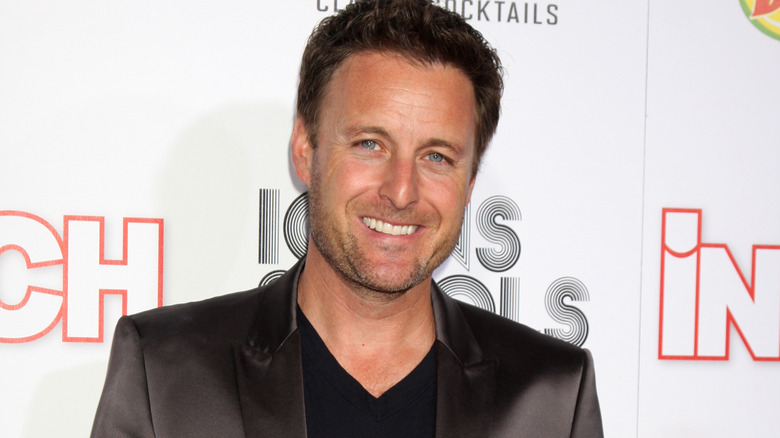 We've all had our questionable fashion phases, and Chris Harrison is no exception to the rule. In 2012 and 2013, he started showing off his snazzier side, stepping out in rock n' roll-esque suits like this iridescent jacket and vest. These flashy blazers are a far cry from the former host's more recent uniform on "The Bachelor," which featured a rotating collection of sophisticated cuts and muted tones. 
Chris' rock n' roll vibes coincided with his decision to launch a men's clothing line in 2013 called the Chris Harrison Collection by Da Vinci, according to Entertainment Weekly. Speaking of the inspiration behind the line, the reality star told the outlet that he was marketing to the "professional men [who think], 'I want to look nice, I like fashion. I'm not going to go crazy, I'm not going to have five wardrobe changes before I can pick up my kids or go to football practice, or whatever else, but if it's easy enough, yeah." 
Chris also shared that he had previously debuted a red skinny tie from his line at the Grammys that year, a fashion choice that caught the eye of actor Neil Patrick Harris (via Entertainment Weekly). Not too shabby!
Chris Harrison debuted a scruffier look in 2018 — and fans were here for it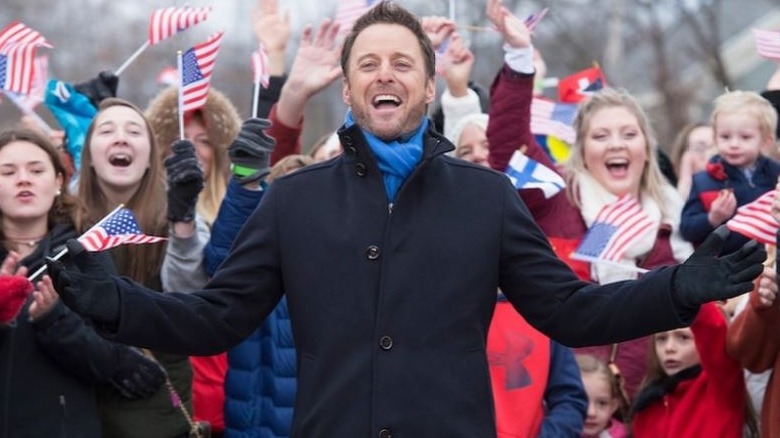 Chris Harrison's clean-cut look is basically a staple of his days on "The Bachelor," so people were surprised when he changed things up and rocked a beard on the set of "Bachelor Winter Games" in 2018. Though Chris probably grew facial hair to protect his face from the wintry elements, fans wasted no time in clamoring for him to sport the look year-round. Someone even set up a dedicated Twitter account for his beard (which was actively posting as of 2020), featuring the tagline, "I only come out for #TheBachelorWinterGames."
As well as a Twitter appreciation account, the social media reactions were overwhelmingly positive. Chris discovered the social media love for himself and retweeted the beard account, writing, "If I can't tweet, I'll allow my beard to speak for me." 
Another fan chimed in to tweet, "Chris Harrison and that beard … someone give that man a rose." Considering he's essentially the patriarch of 'Bachelor' Nation, viewers had never given much thought to Chris' physical appearance before, but the beard proved there were plenty of thirsty people out there. Too bad he eventually shaved it off.
Chris Harrison and Lauren Zima sparked wedding rumors in 2021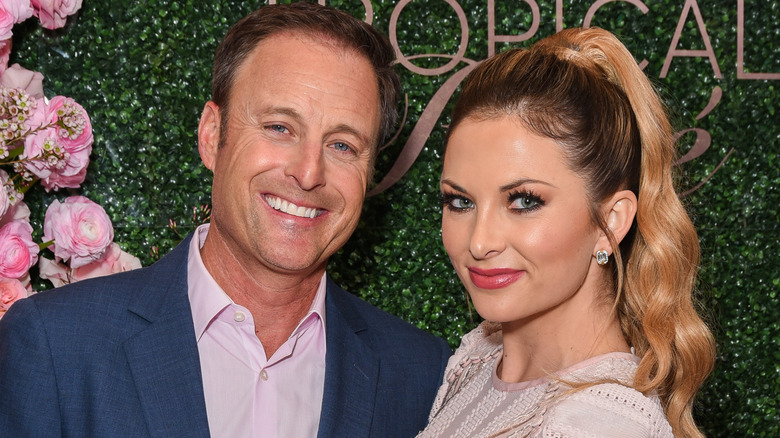 Chris Harrison's family-man status may have led Mike Fleiss to handpick him as 'Bachelor' host, but Chris' marriage wasn't meant to last. In May 2012, he announced that he and his wife of 18 years were separating, with insiders blaming distance for the split (via Us Weekly). Though Chris was candid about the fact he had no plans to look for love on "The Bachelor," he eventually crossed paths with entertainment reporter Lauren Zima thanks to his job. Per Marie Claire, the two went Instagram official in 2018, and things have been roses and sunshine ever since. 
In 2021, the couple's PDA fueled rumors that they may even have tied the knot. Wedding speculation started after Chris shared a romantic black-and-white photo to Instagram in April that showed him kissing Lauren, who seemed to be clad in a wedding dress. Though Zima clarified in a comment that it was a bridesmaid's dress, Chris' emotional caption hinted that the pair could be ready to take the next step in their relationship. "'I'd stop the world and melt with you' @laurenzima there's no one I'd rather celebrate love with and I'll be your plus one anytime," he wrote. 
Were all those years on "The Bachelor" leading Chris to his own happily ever after all along? Looks like we'll have to wait and see.
Source: Read Full Article