The True Story Behind Selena Quintanilla's Death at the Hands of One of Her Fans
Part 2 of Selena: The Series just premiered on Netflix, and I'm sure I'm in the same boat as a few of you when I say I've already binged the show in one sitting. We're all completely invested in the story of Tejano superstar Selena Quintanilla's rise to stardom, and let's just say the second set of episodes truly doesn't disappoint.
*Proceeds to play "Bidi Bidi Bom Bom" on repeat.*
At one point during the season, viewers are introduced to Yolanda Saldívar, an enthusiastic nurse who happens to be the president of the Selena fan club in San Antonio, TX. She is so enamored with the young singer that she eventually develops extremely close ties with the Quintanilla family. But as true fans already know, what started out as a loving relationship quickly turned to be a toxic obsession, as Yolanda was eventually charged with murdering Selena on March 31, 1995.
More than two decades after the incident, Yolanda still insists that the murder was some sort of accident. While it seems a bit far-fetched, Yolanda's story—and her relationship with the Quintanillas—is a bit more complicated than people might necessarily remember.
Here's some info about Yolanda's time with Selena, and how she ended up becoming an enemy to hardcore fans: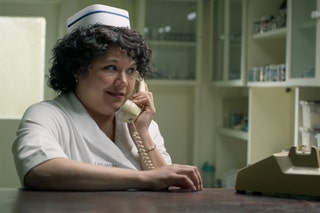 Yolanda first entered the picture in the early 1990s.
As viewers may recognize from the series, Yolanda first entered the musical family dynamic in 1991, when she was a 30-year-old newly-registered nurse. Although eleven years older than her idol, Yolanda insisted she was Selena's biggest fan, to the point of reportedly calling up father/manager Abraham Quintanilla Jr. on the regular, just for permission to form a fan club dedicated to the rising star.
Fast forward a mere few months later, and the Selena Fan Club was born in Yolanda's hometown of San Antonio. Who would be the one to oversee it? Why, it would be her, of course.
Yolanda then immersed herself—and became obsessed—with the whereabouts of Selena.
While running the fan club, Yolanda was all about the "Dreaming of You" singer. Her outreach brought in a whopping 1,500 members (does anyone remember when that was considered to be a large following?), and was dutifully at the side of Selena (essentially playing the part of the posse) whenever she made an appearance in Texas.
Some people started to get a little freaked out by just how much "love" Yolanda felt for the singer. In a 1995 article in Texas Monthly, one witness described their time as Yolanda's roommate, quickly discovering just how far the obsession went. Apparently, Yolanda "didn't just have pictures of Selena on her walls—the whole place was like a shrine."
But it wasn't just other folks who became concerned about Yolanda. It quickly became an issue with the Quintanilla family as well.
Yolanda invited Selena to meet in late March 1995.
On March 30, Yolanda checked into a local Days Inn in Corpus Christi, where she called Selena and asked to meet up. The next day, the two met up, and they proceeded to argue over some financial documents the singer needed to file her taxes. As she was about to leave the hotel room, Yolanda took out her recently purchased gun and pulled the trigger, shooting Selena in the back and fatally wounding the woman who was once her idol. The beloved singer was declared dead at Corpus Christi Memorial Hospital, just ninety minutes after the shooting
As far as what happened to Yolanda: After holding off police for nine hours in a red pickup truck, she was eventually arrested for murder.
When Carlos Valdez, then the lead prosecutor for Yolanda's murder trial, was asked by A&E Real Crime what possessed her to kill Selena, his answer was rather simple: "Yolanda wanted to kill Selena because Selena was firing Yolanda. She wouldn't exist if she didn't have Selena. And if she didn't work for Selena, she didn't want to work for anybody."
Yolanda was eventually put on trial.
On October 15, 1995, just a few months after the shooting, Yolanda was tried in Houston for the murder of the "Amor Prohibido" singer. According to The New York Times, her lawyers insisted the shooting was an accident, and the gun which was meant to be fired on herself accidentally hit Selena.
Thanks to the testimonies of Selena's father, husband and sister, Yolanda was convicted of first-degree murder on October 24, 1995.
Where is Yolanda Saldívar now?
On November 22, 1995, Yolanda entered Gatesville, a women's prison in Dallas. While she is currently serving a life sentence, she does have the opportunity to gain parole in March 2025.
Source: Read Full Article