The Untold Truth Of Chiara Ferragni
Chiara Ferragni is one of the most influential figures in fashion today — and it all started with her posting outfit photos for the world to see in 2009. Since then, the Italian fashion blogger has enjoyed tremendous success — not only in blogging, but in plenty of other ventures, as well. Years after Ferragni first rose to fame, she remains as popular as ever. Her Instagram page has amassed many millions of super loyal followers, who come for the fashion and stay for the glimpses into Ferragni's glamorous life.
Speaking of her glamorous life, the Milan-based fashionista spends lots of time traveling to beautiful destinations — for both work and leisure — and generally enjoying many luxuries, including the time she took a slide from a yacht straight into the sea. Ferragni may be a celebrity, but she's also just like us in some ways, and she enjoys winding down and spending time with her family, too. There are many layers to her, so here's what you may not already know about her life and career.
Chiara Ferragni wanted 'attention' in the world of fashion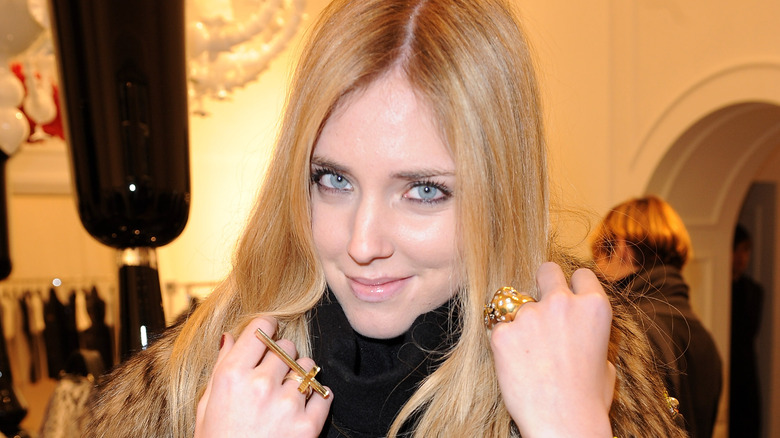 2009 was a big year for Chiara Ferragni. During that time, she started The Blonde Salad, a lifestyle blog with a fashion focus. But whereas today she is consistently on the guest list for some of the most fashionable events around the world, there was a time when Ferragni had to content herself with hanging around outside fashion shows dressed in some of her best looks. "I was always seeking attention," she told The Times in 2019. "I just wanted to be seen."
Ferragni's wish certainly came true: She was one of the first fashion bloggers to achieve such wide-ranging influence, and she was so successful that the Harvard Business School actually studied her. In 2011, The Cut branded the influencer "[o]ne of the biggest breakout street-style stars of the year." Soon after that, Teen Vogue dubbed her its "Blogger Of The Moment." But this success didn't come as too much of a surprise for Ferragni: She had always believed in her capacity to do big things. "I have always had a thing about sharing my everyday life," she told Hypebae in 2019. "I've always thought that taking pictures of my outfits, travels around the world and experiences with friends and family could one day evolve into something bigger and more important."
To pursue blogging, Chiara Ferragni dropped out of college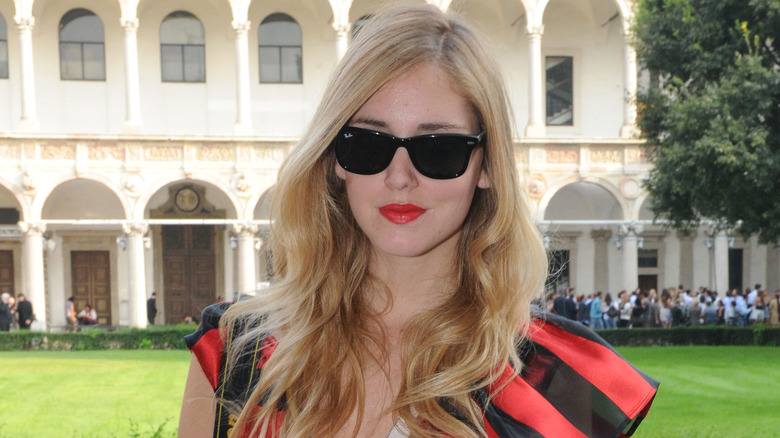 Chiara Ferragni started The Blonde Salad while she was pursuing a law degree at Bocconi University in Milan, but her business became so lucrative that she ended up dropping out with just three exams to go, per the Financial Times. Even though she always thought she'd have some level of success, Ferragni hadn't foreseen the extent to which The Blonde Salad would take off. "I could not even have imagined achieving even ten percent of the success and fame I have today," she told Archyde in 2019. "It's so crazy that it's getting better and better." When she first started doing what she still does today, Ferragni knew she had options if blogging didn't work out. "I had studied law and always had a plan B in my pocket," she told Archyde. "You never know what's going on in the industry."
In an interview with Remix Magazine, Ferragni recalled the moment she realized The Blonde Salad was getting really big. "It happened organically, but I remember the turning point," she told the outlet. "It was when a couture brand contacted me for collaboration, because that was one of my dreams coming true!" The message: Follow your dreams, kids. It pays off.
Chiara Ferragni has always said no to appearing on reality TV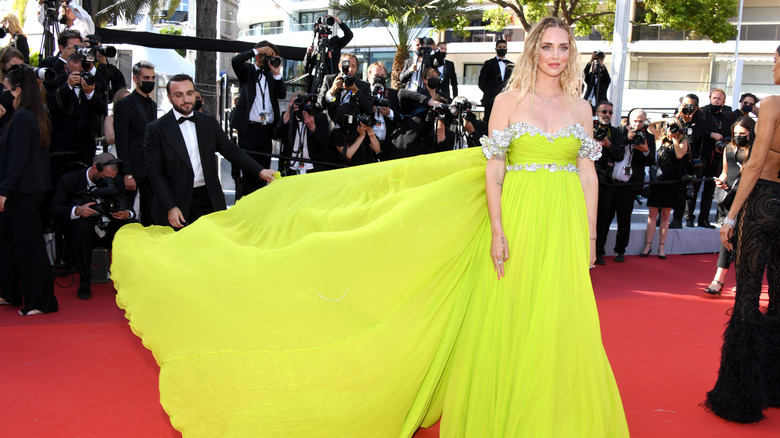 According to Chiara Ferragni, everybody and their mother had an opinion on what kinds of TV shows she should get involved in — but the blogger and entrepreneur knew what she was willing to do, and what she wasn't.
Among the projects she was happy to throw herself into was design competition "Making the Cut," on which she serves as a judge alongside Naomi Campbell, Nicole Richie, and other big names. "People always wanted me to do reality television or other things that weren't right for me and I said no," Ferragni told Fashion Week Daily. "But this one, from the first time they started talking to me about it, felt like the perfect fit. At the time, I didn't know who any of the other judges were, but the producers always said they wanted to keep it very high profile. It was super nice."
Ferragni has made plenty of other appearances on the small screen, including as a guest judge on "Project Runway" in 2014. She shared a teaser of the show on Instagram at the time, both bolstering contestants ("it's so timeless, so chic") and breaking their hearts ("that's the kind of dress that would look good in photos, but in real life it's hard to make it work").
She has graced the covers of dozens of magazines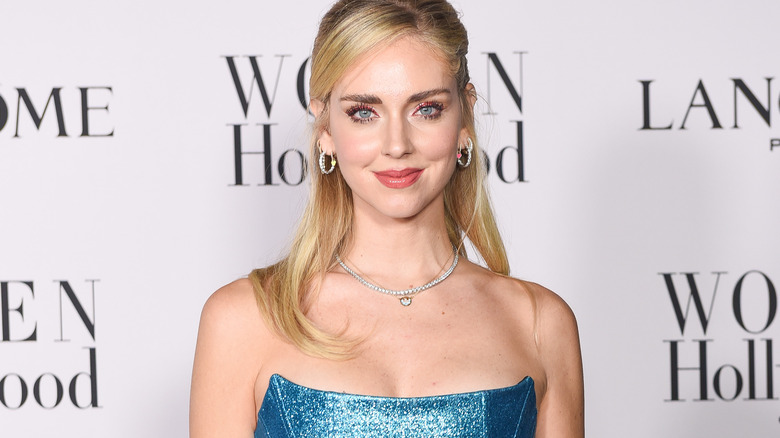 Chiara Ferragni is more than just a blogger — she is a model, too, and has appeared on almost too many magazine covers to count. Notably, she received the great honor of being the first Instagram personality to appear on a Vogue cover, when she featured in Vogue Spain's April 2015 issue. Taking to Instagram to share a cover for Harper's Bazaar Brazil where she's wearing a giant poofy tulle baby pink dress — think classic tutu meets wedding dress — Ferragni wrote, "I was 5 months pregnant here with Vittoria." She has also graced the cover of Vanity Fair, Grazia Italy, and many more.
Even though Ferragni has been a cover star for a list of magazines that would make any aspiring star green with envy, it's also important for her to keep things real and be open about those times when life doesn't look all that glossy. For example, she wanted to show the real grind it takes to be in her shoes through her documentary, "Unposted." Speaking to Vogue, she explained, "It's really about working hard, compromises, sacrifices, and having good intuitions, having good instincts." She also uses Instagram to be honest about what her life is like. "I try to let people see my everyday life, with my make up on and off, when I am on a set or when I spend my free time with my family and friends, so I think I have a more natural and real look," she told Hypebae.
Chiara Ferragni has her own Barbie doll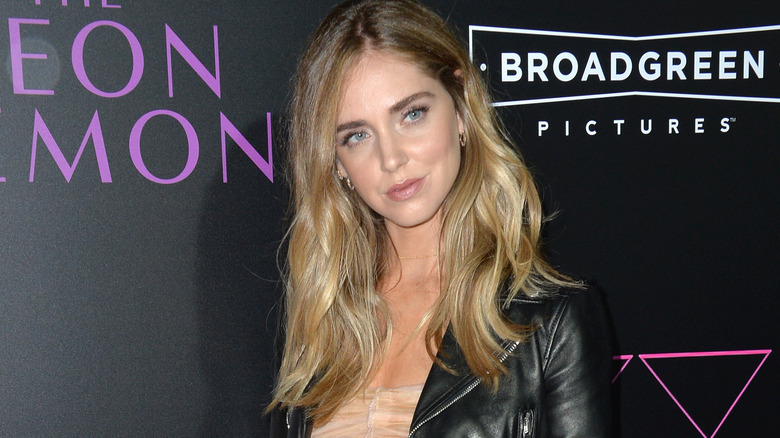 What do Beyoncé, Jennifer Lopez, Audrey Hepburn, Gigi Hadid and Kate Middleton have in common? That's right, they all have a Barbie doll modeled after them. Now add Chiara Ferragni to that list, and you start to see how influential the multi-talented entrepreneur truly is. The doll was released in 2016 and looks eerily like her, super chic in a leather jacket, white crop top, and jeans.
Ferragni was more than a little excited about having her very own Barbie doll lookalike. "My childhood dreams came true: they created my own Barbie (the one on the right)," she wrote on Instagram. "And @barbiestyle came to visit me in my Beverly Hills house." In another post, this time showing the original Barbie and the Ferragni Barbie taking a selfie together on a beach, the influencer was very pleased about her doll version's pastimes. "I'm a Barbie girl," she wrote. "Now I can really sing this song: Mattel created Barbie Chiara (the one on the right) and she obviously loves taking selfies." Like mommy, like dolly?
Chiara Ferragni has partnered with some of the biggest brands in the world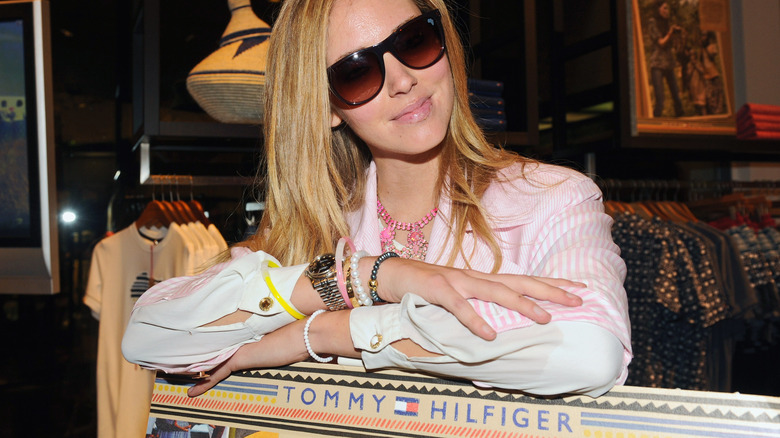 Chiara Ferragni is a hot commodity, and as such, she has landed deals with some of the most famous and stylish brands in the world over her years as a public figure — including Dior, Louis Vuitton, Tommy Hilfiger and GHD. She has also created a line of sunglasses in collaboration with The Sunglass Hut, per Grazia, and a line of makeup with Lancôme, per Allure. One of the reasons her portfolio of partnerships is so impressive is that she won't accept just any brand deal because it pays a lot of money — it has to align with her vision, as well. "I like to work with brands who share my positivity and values," she told APM Monaco.
Ferragni started blogging long before the advent of Instagram (the platform was created in 2010 but didn't become a commercial entity like it is today until years after that), but these days, the social media platform is at the heart of what she does. "I have to say that the rise of Instagram gave a big boost to my career and business, and is now the social media platform that I use the most," she told Hypebae. It's no wonder, when according to Statista, she was commanding up to almost €90,000 per post as of 2019. She can also charge tens of thousands of dollars just for attending an event. Sheesh.
Chiara Ferragni's collab with Nespresso was 'a breath of fresh air'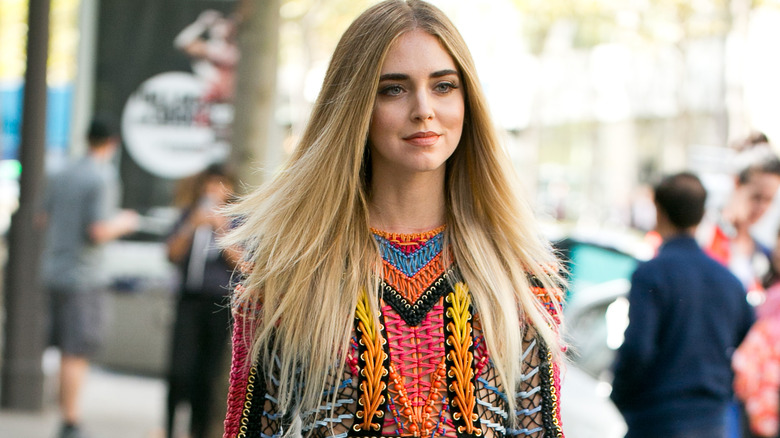 In 2021, Chiara Ferragni had some big shoes to fill: none other than George Clooney's, when she followed in his footsteps as the face of Nespresso. In a lighthearted commercial for the collab, Ferragni frolics around an oceanside destination and stops to make herself a little coffee using some of the items in her collection: an espresso machine, some regular coffee cups, a milk frother, and a reusable cup, all decked out in bubblegum pink and adorned with Ferragni's signature eye logo.
To mark the release of the collection, a pop-up café event was organized in Milan, according to Women's Wear Daily. "It's a dream come true to see this temporary café come to life, it's a breath of fresh air, especially after the year we've all lived," Ferragni told WWD. Everything in the café had the Chiara Ferragni touch — down to branded stencils on the coffees. "@Nespresso and I love coffee and ltaly's heritage, that's why we wanted to launch a cafè in the centre of Milan," Ferragni wrote in her Instagram post announcing the café's opening.
What is Chiara Ferragni's net worth?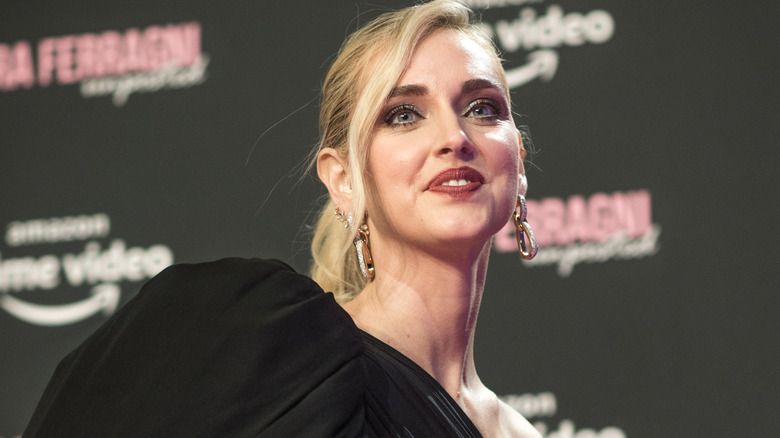 Chiara Ferragni is worth a very impressive estimated $10 million, thanks to her unrelenting business savvy. Her website, The Blonde Salad, which first propelled her into fame, is still alive and well, and Ferragni can charge thousands of euros to model a brand's clothes for a blog post. "I started as a blogger but it's not so much that any more, I do so much more," she told The Guardian in 2016. "I create an inspirational platform. We do so much on the e-commerce side, the projects, the management. But most of the revenue still comes from projects related to me."
She also has her own retail brand, Chiara Ferragni Collection, which carries clothing, accessories, stationery, and more. There's also all the money she makes from Instagram posts, brand partnerships and high-profile TV appearances. Then, there's the documentary she produced about her life and career with Amazon Prime, titled "Unposted," which grossed $1,773,242 — not a blockbuster, but still a source of income. 
The movie demonstrates how truly versatile Ferragni is when it comes to getting that bread. "When we started talking about making the documentary, it was very important to show the business part because I feel most people, even if you follow me 100% every day, don't really understand what I do," Ferragni told Vogue. "It's not just about taking photos and looking pretty, because if it was like that, everybody could do it, you know?"
Chiara Ferragni's ex tried to shadily sell his shares in the company they built together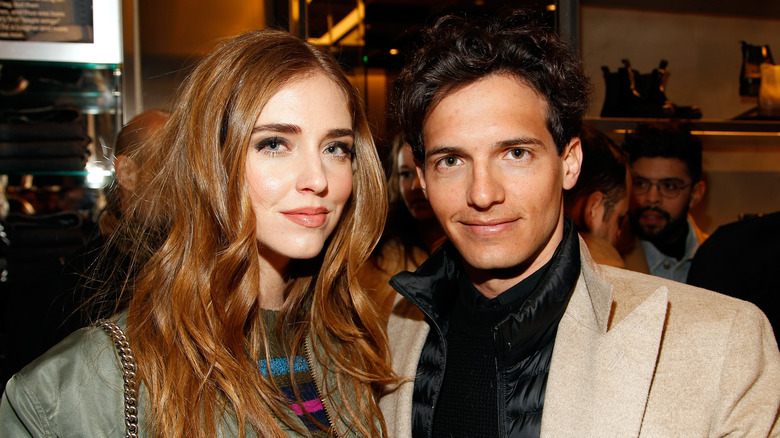 Once upon a time, Chiara Ferragni was dating a businessman named Riccardo Pozzoli. "Hi, I'm Chiara Ferragni from The Blonde Salad.com, and here is my boyfriend-slash-photographer, Riccardo," was how the influencer introduced him in a video for The Cut at New York Fashion Week 2012, prompting a giggle from the boyfriend-slash-photographer in question. Unfortunately for these two, a happy ending was not in the cards.
Towards the beginning of The Blonde Salad, Pozzoli was actively involved in the business. But long after the two had broken up, he tried to pull out of the company in the shadiest way. According to "Unposted" (via Fashionista), Pozzoli tried to sell his shares in the company to a third party without Ferragni knowing … while she was heavily pregnant with her first child in 2018. Vogue reports that Pozzoli, thankfully, ended up selling these shares to Ferragni herself. Still, how stressful.
Chiara Ferragni's tattoo helped her find 'true love'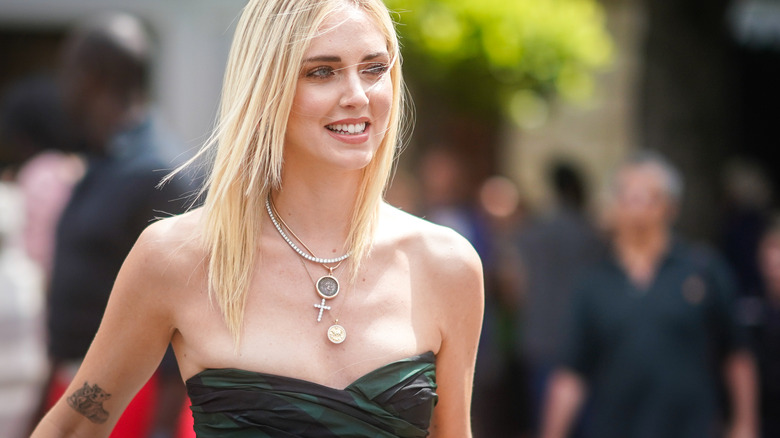 It's enough to make you believe in magic: One of Chiara Ferragni's many tattoos completely changed her life. While she was single, Ferragni decided to go for a design that was very symbolic to her: "I tattooed two lions on the back of my right arm; a male lion and a female lion, which meant true love to me," she told Female (via Steal Her Style). "The next day, Fede wrote to me to go to dinner and a week later we had our first date. I found my true love and [my son] Leo is the celebration of this love." The year was 2016, and she and "Fede" — the rapper Federico "Fedez" Leonardo Lucia — were married in 2018.
But the two lions are far from the only tattoo Ferragni has had done over the years. In fact, Steal Her Style lists 26 of them — and that's just the ones we know about. She also has several smaller tattoos on her hands, including three lightning bolts in a row, and "LUCE" — that's "light" in Italian — in big, bold letters on her ribs.
How Chiara Ferragni's rapper husband proposed to her on live TV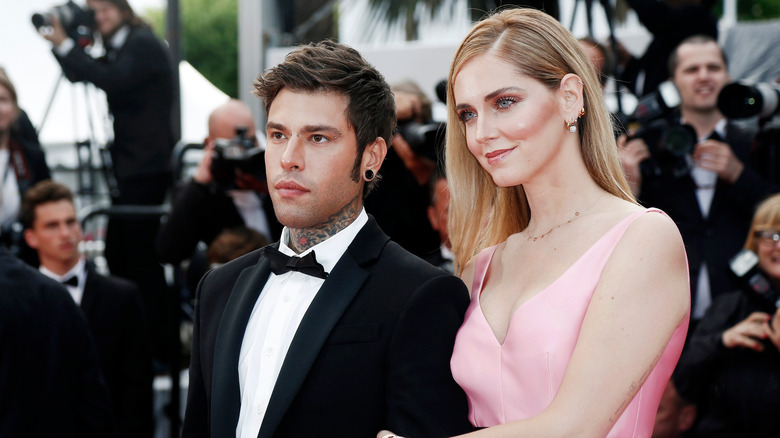 If we had to guess Chiara Ferragni's life motto, we'd say it's probably, "go big or go home" — and when it came to getting engaged, Fedez more than delivered on that front. On her 30th birthday, Ferragni attended what she presumably thought was just another one of her boyfriend's concerts, albeit broadcasted on live TV, but it turned out to be much more than that. According to Women's Wear Daily, Fedez invited Ferragni on-stage, then proceeded to sing her a new song. Translated from Italian, the lyrics included the line, "​​we don't need rings to keep us together." The rapper then stopped singing to say, still in Italian, "We don't need rings to be together but to ask you what I'm about to ask, perhaps I do [need one]…" He dropped down on one knee, pulled out a ring, and the rest is history.
The celebs' wedding was equally flashy and featured not one but two jaw-dropping wedding gowns — one for the ceremony and one for the reception. Posting photos from the wedding on their third anniversary on Instagram, Ferragni wrote, "Three years ago I married the man of my life and It was one of the best days I've ever experienced, surrounded by all the people I truly love." She added. "To many more years celebrating this feeling @fedez Ti amo."
Chiara Ferragni's kids made her life look very different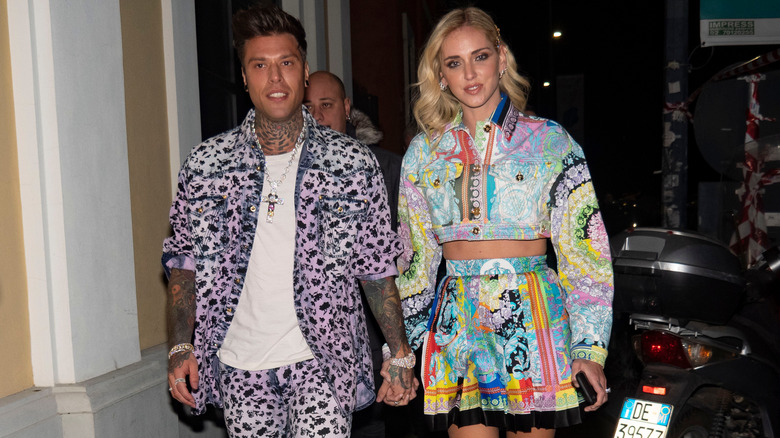 As slyly noted by The Guardian ("when I try to ask a question specifically about the shoes, Ferragni turns the conversation back round to, well, Ferragni"), Ferragni was used to being the main character in her own life before she had kids. Once she gave birth to Leone "Leo" in 2018, followed by Vittoria "Vitto" in 2021, things changed quite a bit. When Leo was born, she couldn't "live as lightly as before" and had to work hard to find balance, according to L'Officiel.
Speaking to Archyde in 2019, Ferragni elaborated on what motherhood was really like. "My priorities have changed a lot," she said. "My family always comes first. And I became more careful. Because I always think that nothing should happen to my son. I have become a little more anxious. But overall it's great to be a mom." These days, Ferragni shares adorable snapshots into her life with the little ones, like this candid pic of her and Leo having a snooze, this video of him jumping in a pool, and this incredible photo of Vitto where "she looks like a cartoon character."
Chiara Ferragni made the most of the pandemic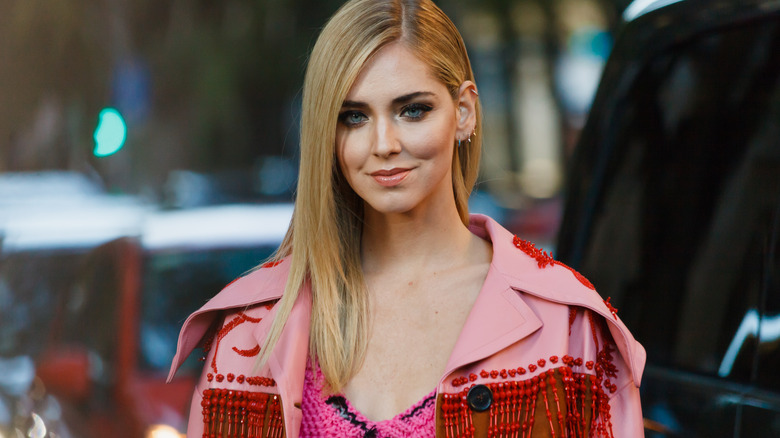 Whether you have 25 followers on Instagram or 25 million, we've all had to live through the coronavirus pandemic one way or another — even if our experiences of it were very different. When Ferragni spoke to Fashion Week Daily in April 2020, lockdown had already felt "very long" (shh, nobody tell past Ferragni how much longer she had to go…). That said, she was clearly able to see the many silver linings in her situation, including that she was still able to work while also "spending a lot of quality time with [her] baby boy." She was also well aware of the many privileges she had that made the pandemic more easily bearable. "I consider myself very lucky because we have a big apartment — we have light, we have a terrace — so we are much luckier than a lot of other people," she told Fashion Week Daily. "It's hard for everybody, obviously, but it's harder for some people [than others]."
Ferragni and her husband Fedez also used their privileges for good very early on in the pandemic (Italy's nationwide lockdown was imposed in early March 2020, per Axios). The couple helped organize a fundraiser benefiting the San Raffaele hospital in their Milan hometown, according to Women's Wear Daily. "Ferragnez" — as the two are known in the Italian press—personally donated €100,000 to the cause, while the fundraiser as a whole brought in €3.3 million for new hospital beds.
A Milan apartment with a massive closet suited Chiara Ferragni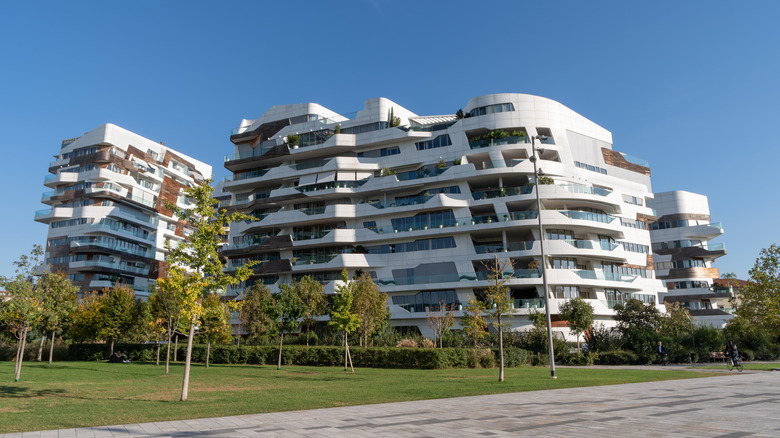 Previously, Chiara Ferragni used to split her time between Milan and Los Angeles, which is where Leone was born. Speaking to Remix Magazine in 2015, Ferragni defined what "home" meant to her. "There are two places that I call home: Milan, Italy and Los Angeles, California. I like to take the best from both places." She went on to explain that, while in Milan, she spent a lot of time with her coworkers, family, and friends; in LA, she embraced the healthy SoCal lifestyle wholeheartedly.
However, in 2020, Ferragni announced on Instagram (via TekDeeps) that she intended to sell her LA home and spend more time in Italy instead. In Milan, Ferragnez and their two children have lived since 2018 in the duplex penthouse of a jaw-dropping modern building designed by architect Zaha Hadid, per Historias de Arquitectura, where Ferragni's walk-in closet is as utterly insane as you'd imagine (as seen in an IGTV house tour). But the family was only renting this apartment — for between €8,500 and €11,000 per square meter — and bought a new apartment that was under construction in 2021, as Ferragni shared on Instagram (via Italy 24 News). "We have finally found the house of our dreams, we are building it and we are planning it all," she said. "I am super happy, because I love the furniture and I love the idea of ​​creating something that is totally ours."
Source: Read Full Article