Ursula, Miss Hannigan, Other Musical Villains We Love a Little Too Much
Whether it be there sass or their confidence, their manipulative prowess, or their maniacal tendencies, certain musical villains have found a place in our hearts. They inhabit the dark crevices that too often go neglected, yet deserve and require a little attention … a little twisted pampering all their own. Certain musicals possess bad guys who make evil look so tempting, so fun, so right.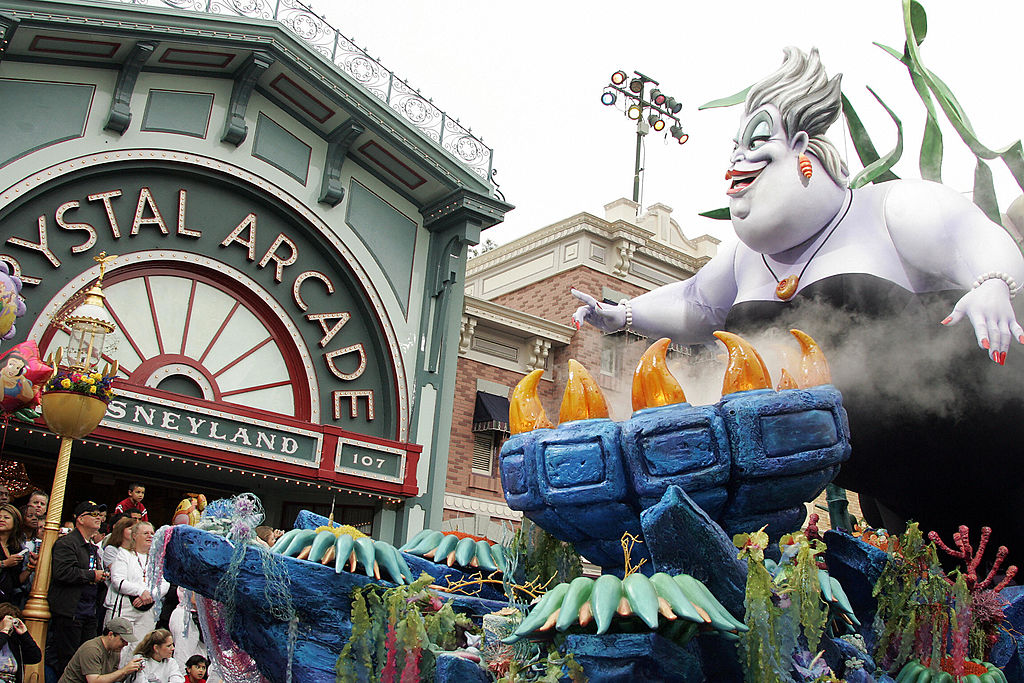 Rainbows and mermaids, saviors, and princes are excellent for keeping the heart warm, but a little vengeful villainy is integral to our lives … for balance. Right? If not, would we love certain musical villains as much as we do? From Ursula to Miss Hannigan, some musical villains are just too much. They're clever. They're coy. They're superior. They're sardonic. They're piranhas, And, most importantly, they're perfect just the way they are. 
1. Ursula from 'The Little Mermaid'
Ariel may well be The Little Mermaid's prized princess, but Ursula is its quintessential queen. She sashays around her lair with pride; she knows how to one-up the "poor unfortunate souls" who cross her path for assistance, and she's got a stride (or should we say stroke) to be remembered.
RELATED: The 5 Best Broadway Soundtracks to Turn That Frown Upside Down
Ursula is always in command, and she is selective with her words (as seen in her hit number). Yet, it is in her delivery that we grow attached to her. She may be bad, but she makes being bad look so good in that tight black dress with a low-cut back. She owns her figure. She owns her status. She owns her femininity (without sacrificing her power). And, for that, she is a hero among villains.
2. Scar from 'The Lion King'
If you can't appreciate Scar despite his treachery and treason, your heart is likely very pure. Yet, for those of you who can appreciate his superiority streak and his coy condescension, welcome to the villain's club. The Lion King's Scar is smart, and he uses his intelligence to deceive and outmaneuver his opponents.
RELATED: The 5 Best Broadway Showtunes For an Uplifting Shower Jam Session
His goals are unacceptable and his actions amoral, but his ability to set a plan, turn coyotes into an army, and carry out his heinous pursuit is indisputably quite impressive.
3 and 4. Velma Kelly and Roxy Hart from 'Chicago'
Who could forget the "merry murderesses of the Cook County Jail": Velma Kelly and Roxy Hart? One kills her husband, while the other slays her lover. Yet, both men "had it coming!" The girls are the bad guys, and through lies, deception, and a little acting, they emerge from their jail cells to take center stage. 
RELATED: The Sauciest and Most Seductive Songs From Musicals
Yet, they couldn't do it without a little help from their lawyer, Billy Flynn — who gives the jury the old "razzle, dazzle" and gets them off scot-free. Though they are wrong, they are also a bit right. They are simultaneously the protagonists and the antagonists, and their duality makes them lovable.
5. Miss Hannigan from 'Annie'
Carol Burnett's take on Miss Hannigan is unforgettable and funny. Though she's the bad one in the movie — treating innocent little girls like garbage — she does it with a quick tongue and a bottle of liquor. And viewers can't help but laugh. Her "Little Girls" breakdown is melodramatic (intentionally), as she rips a head off a doll, tosses it in the air and sings about her lack of life's luxuries some women have … she's "dripping with little girls," while other women are "dripping with diamonds."
Miss Hannigan may not be the most admirable or altruistic woman, but she's got an undeniable appeal that emerges from her pure, broken-down, beaten, and battered core.
Source: Read Full Article