Why 'Jeopardy!' Champ Ken Jennings Originally Turned Down the 'Greatest Of All Time' Tournament: 'I Told Them No'
Ratings soared when Jeopardy! aired its "Greatest Of All Time" tournament with top champs Ken Jennings, James Holzhauer, and Brad Rutter competing for the title.
Though Jennings ended up winning the entire match, he confessed that he originally wasn't on board with going another round on the game show.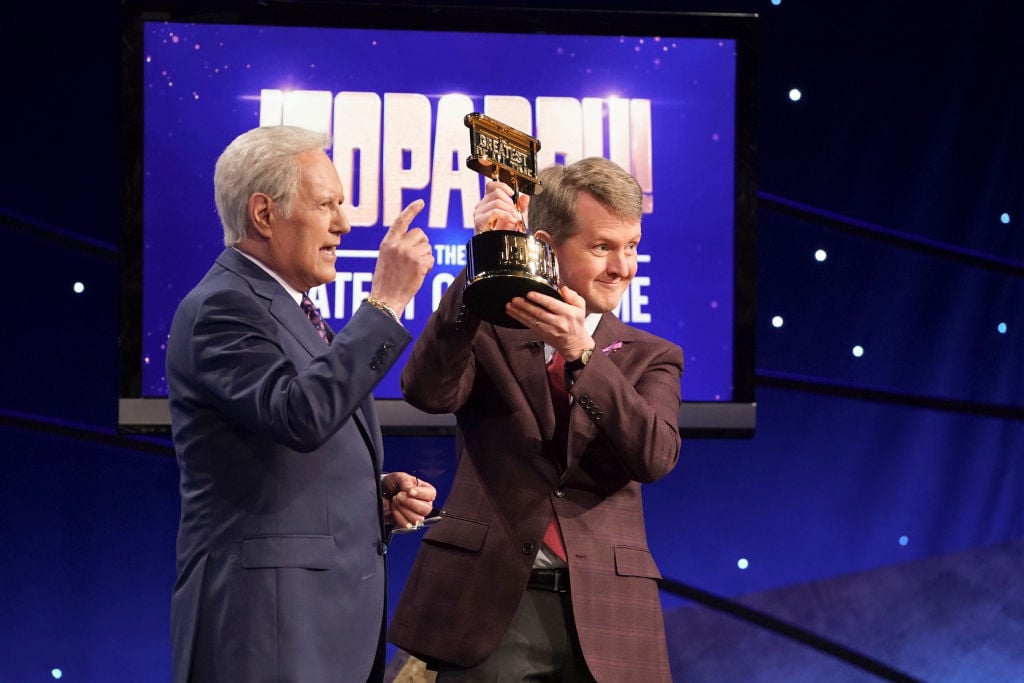 'Jeopardy!' was literally a game-changer for the champ
In an interview with the Boston Globe last month, Jennings talked about the impact Jeopardy! has had on his life.
"It changed everything," Jennings shared. "Them calling me in 2004 and saying, 'Hey, you're going to be on Jeopardy!' at that point, I could've died happy."
The game show champion revealed that his first go-round on the competition was even more memorable than earning the coveted "Greatest Of All Time" title.
"Winning that first game, nothing — not even the GOAT — compares with that," Jennings said. "Because you realize no matter what happens, they can't take this away. I'm a Jeopardy! champion to the grave."
RELATED: Alex Trebek Was In Hot Water With This 'Jeopardy!' Controversy
Taking notes on James Holzhauer
Since Jennings was familiar with Rutter's gaming style, he prepped for the best-out-of-seven tournament by focusing on episodes featuring Holzhauer.
"There was a ton of watching James. Brad's game I know — he's a remarkable Final Jeopardy player, and if he gets his buzzer timer going, I don't know how you beat him," Jennings revealed. "But James had such an unusual strategy."
The Jeopardy! GOAT began to pick up on Holzhauer's strategy of jumping around the board and going 'all in' on Daily Doubles. "It really struck me how much of James's impact is just psychological," Jennings explained. "The notion that he puts the game away before the first commercial, [and competitors] just check out. It's just so demoralizing."
Watching Holzhauer made Jennings realize he needed to follow suit. "I realized two things: One, there will be games where he does that and I just need to keep my cool," he said. "Two, his strategy is so effective, particularly with big wagers. The only way to beat someone doing that is to do it yourself."
RELATED: 'Jeopardy!' host Alex Trebek Goes by His Middle Name – So What's His First Name?
Thankfully, Ken Jennings changed his mind
Before Holzhauer's ratings-inducing run on the show, Jennings and Rutter had competed in a team tournament. The game show champ assumed that his stint on Jeopardy! was over after that.
"I heard very soon after James's [initial] run," Jennings recalled of being contacted for the GOAT challenge. "Brad and I had just been on earlier that year for a team tournament, so I thought I was off for a while, or maybe forever. They called me and said: 'We want to have you, Brad and James [play] in prime time.'"
Surprisingly, the quiz master turned down the opportunity at first. "I told them no," Jennings confessed. "I was having the Flowers for Algernon experience, being in my 40s, and not feeling as good at trivia as I did when I was young and sharp. I said I think I'm past my prime."
Fortunately, persistence won out when Jeopardy! producers wouldn't accept 'no' for an answer. "They called back and said, 'We really would love you to do this.' And [I realized] when the chips are down, I'm not going to turn down a chance to play Jeopardy! during the Alex Trebek years."
After winning the grand prize of $1 million and earning the title of Jeopardy's Greatest Of All Time, Jennings is probably very grateful he had a change of heart.
RELATED: 'Jeopardy!:' Who Are Alex Trebek's Kids?
Source: Read Full Article