Beaming Queen receives Prime Minister Scott Morrison in Windsor Castle
London: Scott Morrison has ended his UK tour with a trip to Windsor Castle to visit the Queen, who appeared beaming in press photographs taken at the start of their meeting.
Her Majesty received the Australian Prime Minister on Tuesday morning local-time in the Oak Room of Windsor Castle, where she has been staying during the pandemic.
Queen Elizabeth II receives Australian Prime Minister Scott Morrison during an audience in the Oak Room at Windsor Castle.Credit:AP
Mr Morrison was scheduled to arrive at 11am, around 45 mins later Buckingham Palace issued a short statement.
"The Queen today received The Hon. Scott Morrison MP (Prime Minister of the Commonwealth of Australia) in Audience at Windsor Castle," the statement said.
Photographs of the pair show the Queen smiling warmly and wearing a bright yellow dress with a blue floral pattern and pearls; Mr Morrison wore a suit and light-blue tie.
The details of what were discussed are not known because conversations with the Queen are supposed to be kept strictly confidential to avoid compromising her political neutrality.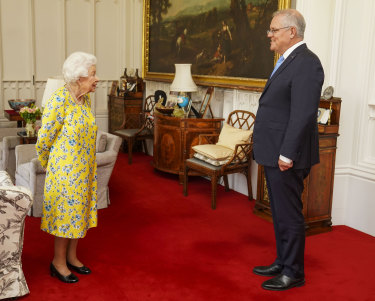 It's the second time the Scott Morrison has met Queen Elizabeth II.Credit:AP
But on the weekend US President Joe Biden provided a rare insight when he revealed that during his 45-minute audience, the monarch inquired about Chinese President Xi Jinping and Russia's leader Vladimir Putin.
The leaders have been in the UK for the G7 summit which the Queen also attended in Cornwall.
The pair, who have both been vaccinated against COVID-19, were photographed standing close to each other.
It is the second time Mr Morrison has met the monarch. In 2019, he and his wife Jenny visited Buckingham Palace and presented her with a book about racehorse Winx. The Queen is an avid horseracing enthusiast.
Mr Morrison made the trip to Windsor, near Heathrow, straight after leaving Downing Street where he and his British counterpart Boris Johnson announced a new free trade deal that will allow younger people to live and work in each other's countries.
He is now on his prime ministerial jet to Paris where he will meet French President Emmanuel Macron.
Most Viewed in World
From our partners
Source: Read Full Article